My boys in their hats. (can you tell they're related! We have a picture of Matt and I when we were both Kaden's age. It's amazing to compare the 2 of them with Kaden right now. He has Matt's cheeks/nose/mouth and my eyes/forehead) I'll try to scan those pictures in so you can see for yourself!)
walking together
Kaden stood next to the brick wall and started pounding on it. Apparently this is lots of fun. Who knew?!
Father/son
"I'm too sexy for my shorts, too sexy for my shorts, toooo sexy, ya"....... haha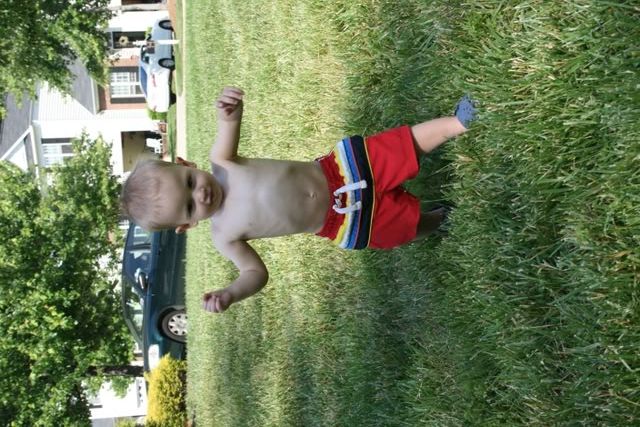 Kaden & I
Impromptu family shot
Watching TV with Matt (and playing with Talbot's frisbee). Such a multi-talented son we have!
Kaden loves to climb on things. I found him trying to climb on top of this toy to get to another toy. One day he's going to fall, and I won't be right there to catch him, and learn climbing's not as much fun as he thinks!
The really fun table. Kaden found a golf ball under it and managed to sit on the bench, turn himself, go under the table to get the ball, and then got back out. The advantages of being small are endless!
Blankee boy strikes again!
2nd major ouch! A month ago Kaden got his real first ouch... Matt was sitting on the ottoman and Kaden came over to him and fell. He happened to just hit his mouth wrong on the corner (it's all padded) and split his top and bottom lip open. His 2nd major ouch came last weekend. He was trying to go outside while I was bringing groceries in from the car. He stepped on the metal plate by the front door, and it made his foot get red. 10 minutes later Matt took him outside without any shoes on and he REALLY burned his foot while walking around in the sun. He got 2 really big blisters, and each toe was really red. I felt so bad for him. He kept shaking his foot in pain and couldn't walk on it for a long time. Luckily he loves Baby Einstein, so he was actually
encouraged
to watch TV just so he'd sit and relax. After a couple hours and a good nap, he was walking on it without any hesitation. The next day he was totally back to his regular, speedy self.
Here's a picture of his poor foot.