Kaden adores Juliet. He calls her "ju-ju-iet"... it's SO cute! Here are some pictures of them playing together.
trying to share his drink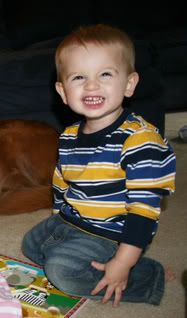 giving her her paci (even though it's upside down)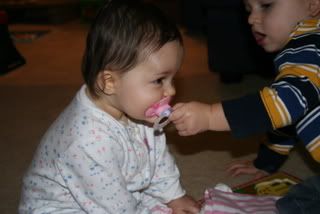 A different day... patting her back
and smiling at her
He's doing really good playing nicely with her but still needs reminders that she's not as big or tough as he is and he needs to be gentle!!
Our little engineer trying to figure out the buttons on the dishwasher
I found several things to do with Raleigh parks and rec...one of them was called Playgroup Tots...they open up a gym and put a bunch of toys and let 1-2 year olds play. Kaden had fun.
He liked this thing until it started going in circles, then he cried and wanted off.
He found a baseball bat (and later a hockey stick) and ran around hitting a ball!
putting the hockey stick down the slide
leaving
The other day I was picking up toys before lunch and could hear Kaden saying "eat, eat, eat". He was in the kitchen and I assumed he was standing by the fridge waiting for lunch. I went into the kitchen to find him sitting in the high chair waiting patiently for lunch!! haha... look at his feet-- he loves to keep them propped up like that!
And to brag on our smart boy...here are some of his latest things that really amaze me:
He can count to 3 - usually only when he's getting ready to go down a slide.
He can recognize a handful of letters and whenever he colors or plays with sidewalk chalk he insists I write letters -- he'll walk around saying "A", "D", "E", "K"...etc. He wants me to write the letters.
He has over 100 words. The other day we were working on a puzzle with animals and I was asking him the names of the animals -- he calls the elephant "trunk" -- I guess because when we read stories and see a picture of an elephant I always ask him "do you see the trunk"...haha. He calls the rooster a "cock-a-doole-roo"... SO FUNNY! Apparently he listens when I tell him what the animals say!
He has really good manners -- says "excuse me" if he's trying to get around someone/something, says "sorry" if he falls or bumps into someone, and says "please" and "thank you" when it's needed.
He identifies a circle, star, triangle, and square, and can draw a circle. He's able to find these shapes all over the place -- in stores, on clothes, in books, etc. Today Juliet's sister was here and had a sweatshirt with a small star in the corner-- Kaden pointed it out to her . Then he noticed her shirt had buttons, which were of course circles, and he pointed that out to her, too. Earlier in the day he found a hair tie of mine and told me "circle, circle"... which of course it is! We were at Old Navy last weekend and they had stars hanging from the ceiling...he noticed and let Matt and I know there is a star above us!
He loves seeing airplanes in the sky and has the best ears ever (must get that from his Dad). If we're outside and he hears a plane, he'll point to the sky (or just look) and say "plane, plane". I usually haven't even heard the noise when he's telling me this! When the plane is out of sight he'll say "bye bye".
A few nights ago I was getting his jammies on and he was knocking on the neighbor's wall. I said "are you trying to get MeeMaw's attention?"... then I asked him "who does MeeMaw live with?".. he responded "Katie" (Katie is MeeMaw's dog!).
When he gets hurt, he'll come to me and give me the part of his body that got hurt. After I give it a kiss, he's instantly fine!