On Saturday I took Kaden to a Candy Cane Hunt that Raleigh's Parks & Rec dept. had. Matt was in Chicago for his interview with Northwestern, so it was just Kaden & I. We had fun. For his age group (1-2yr) they just had a bunch of candy scattered on an open field. Kaden figured out exactly what to do right away! He would gather 5-6 pieces and then put them in his sack. He did so well! Then we went inside for cookies and juice and to play a few games. They even had a fake snow machine/blower, but Kaden was a bit scared and when I'd put him close and step back to take a picture, he turned around and ran to me saying "Mommy! Mommy!"
Not sure about the penguin at the doorway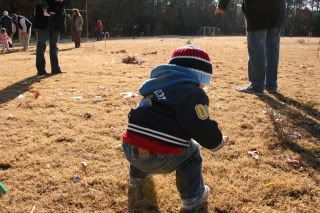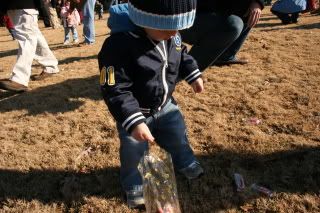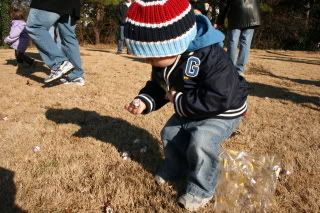 Temptation got the best of him!!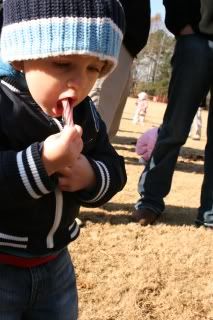 He liked the tall candy cane
I asked him if he was ready to inside for cookies and juice and he took off -- not even scared that I wasn't right with him! He's such an independent boy!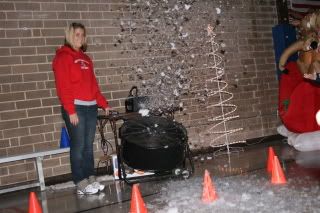 Kaden's Great Grandma and Grandpa Kleckner sent a few early Christmas gifts and a couple times the other day he was bored and it was too cold outside with his cold, so I let him open them. He LOVED opening them. After opening one, he went back to where he saw the other presents and showed me one finger saying "One more...ONE more" He is too cute!!! As you can see, he had fun. He's going to be a blast this year at Christmas!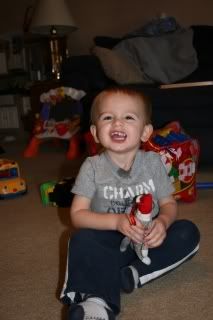 Last year Kaden really liked these singing snowmen. I was curious what he'd do this year -- he instantly figured out how to turn them on and he'd clap and get all excited!