That's how long until we find out if I've been growing two boys, two girls, or one of each, assuming they both cooperate!! We have a dr. appt on Nov. 3 and will hopefully know then! :) Here's a recent belly shot -- 16 weeks 2 days :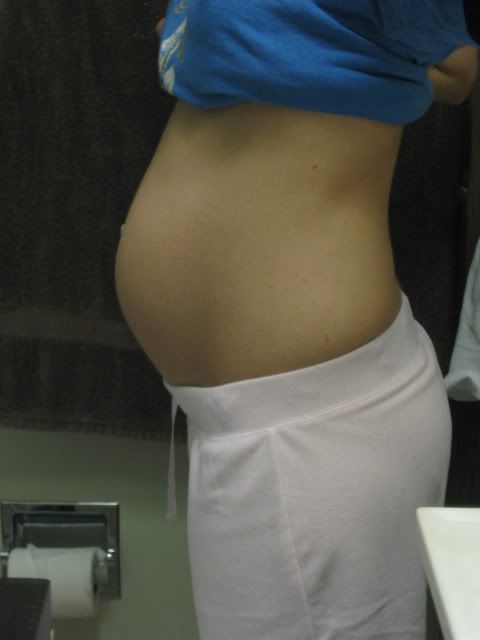 Silly day - Kaden was apparently super silly the other day, because I got several pictures of him doing different things. We were dog sitting Bri & Amber's dog and Kaden decided HE wanted to play in Breck's bed!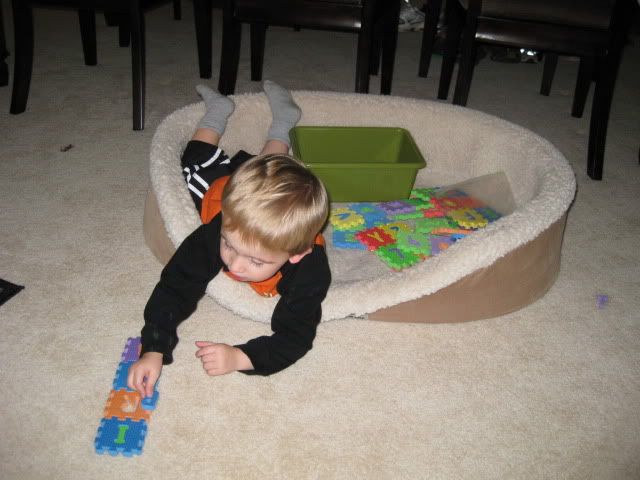 But then decided playing next to Breck was a bit more fun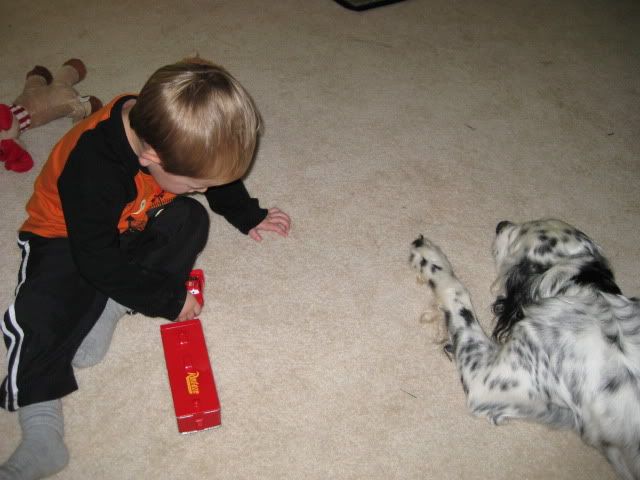 Tired boy playing with his cars. It's amazing how tired he gets, but still NEVER naps!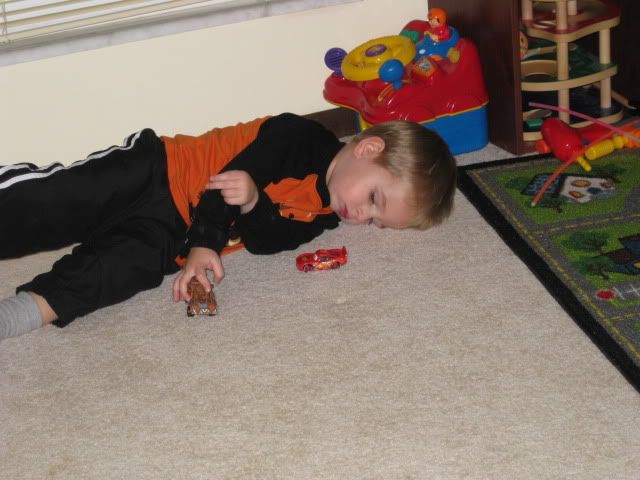 Kaden loves wearing his socks up high! After getting dressed that morning, he kept running around the house, holding his pant legs up! Ha!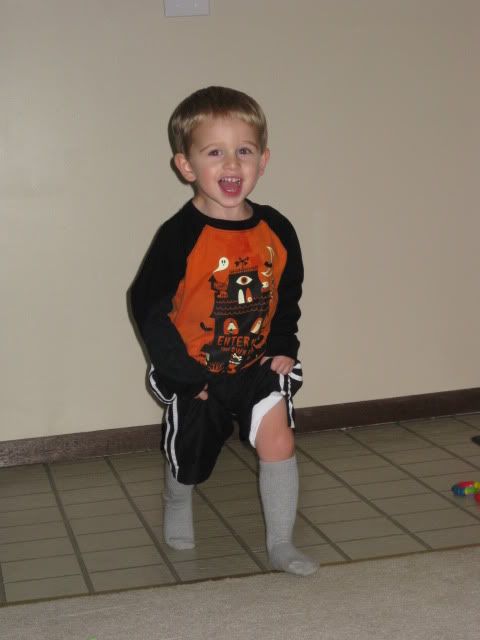 Kaden climbed in Emma's carseat that day and declared that he's a baby! He told me to hold the handle and carry him.. ugh, he's heavy!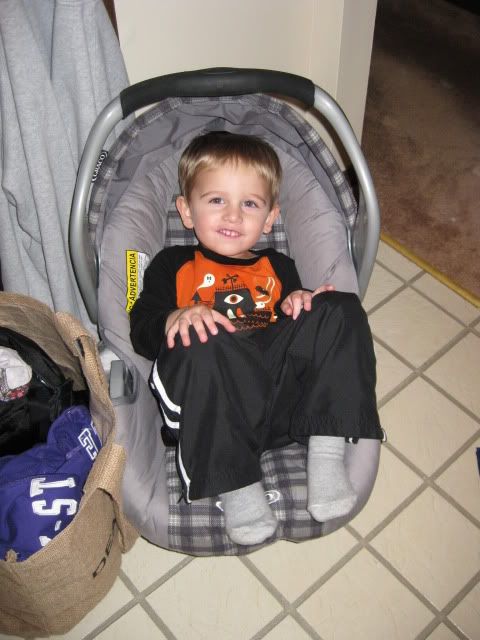 After we got the mail, Kaden grabbed the newspaper insert, some colored pencils, and headed to the couch to color. He's so entertaining!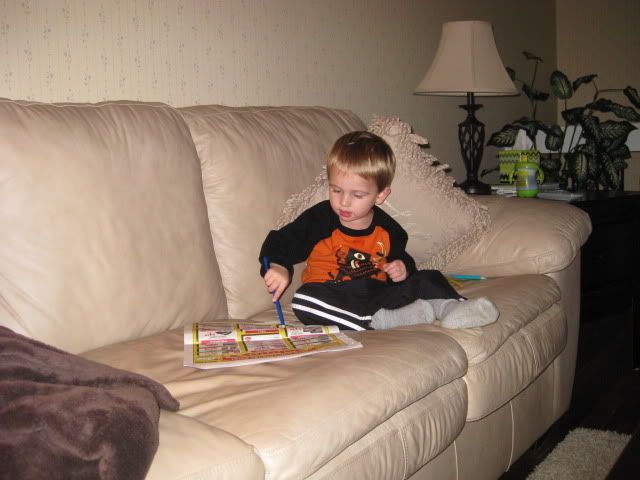 My little drummer boy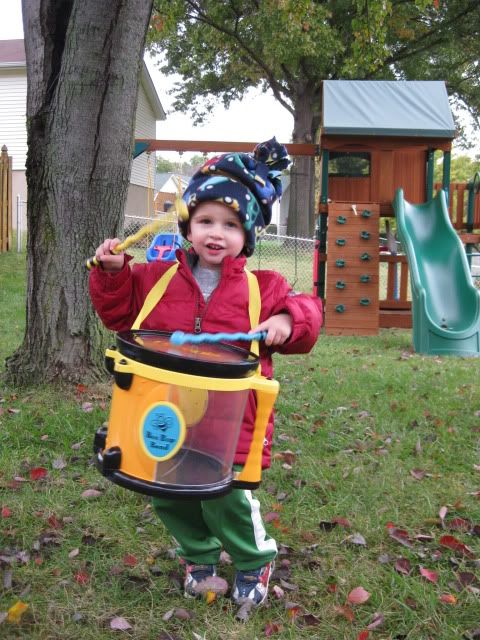 Blankie and TV time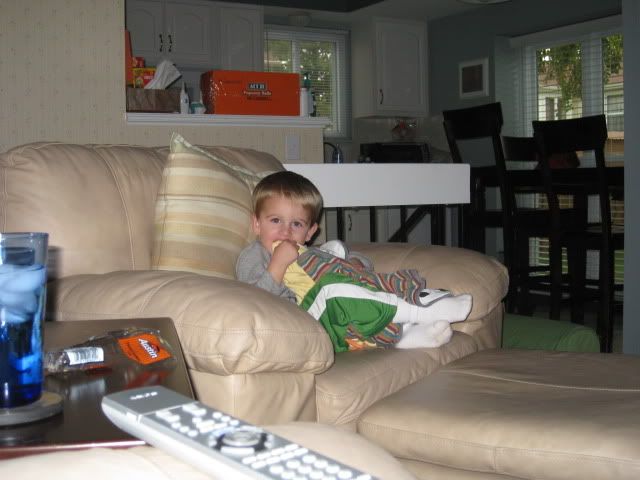 Kaden's rubber boots had been in Matt's car for awhile, and he finally brought them in the other day. Kaden was super excited and wanted to wear them right away the next morning. He put them on, then was jumping around the house saying "wooo....woooo" (there are owls on the boots) He looks so hilarious!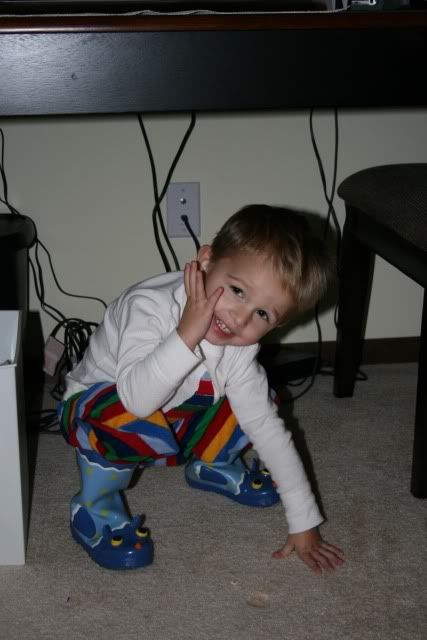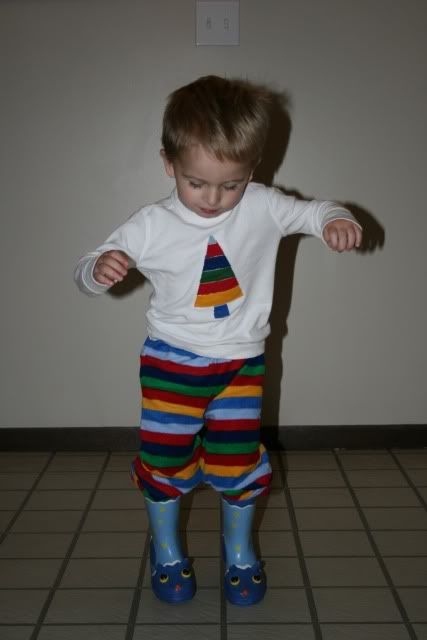 I was picking up the toys and Kaden headed to his room to play. This is how I found him -- he does LOVE his books!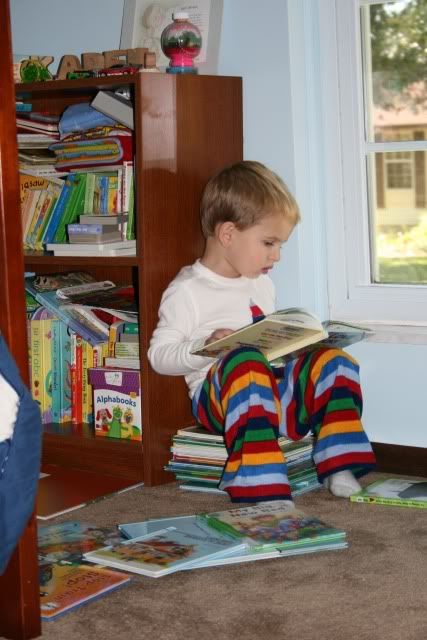 Yummy --- Krispy Kreme pumpkin donut!
Kaden and I went to the Magic House a couple weekends ago (the Magic House is the Children's Museum) and they had a resident pumpkin carver doing demonstrations. He carved Kaden's name into a pumpkin -- it looks so neat!
Back to Kaden loving books.. he also loves Talbot. I was making supper and heard Kaden say "let me read to you, Talbot". I looked around the corner to find this:
(ignore the horrible lighting and what it does to Talbot's eyes... I wasn't going to mess around with turning lights on and miss the moment)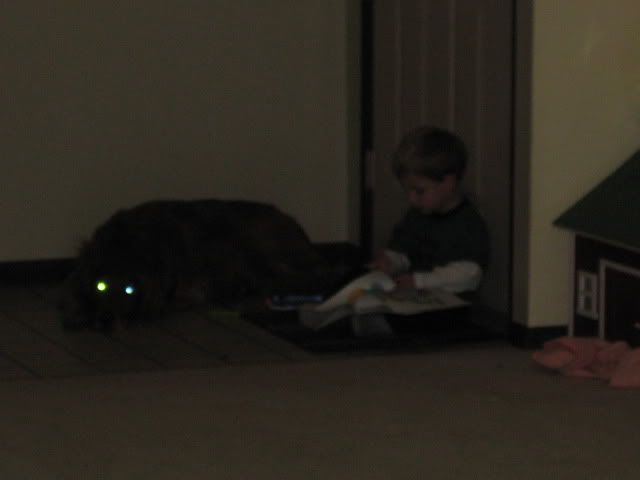 Then Talbot got up and moved, so Kaden followed her:
Kaden loves helping in the kitchen, and was a great helper in crunching up the crackers to make tenderloins the other night. He had just come inside from being out in the cold, so his hair is a mess from the stocking hat and his face is red... ignore all that :). The joys of moving back to midwest!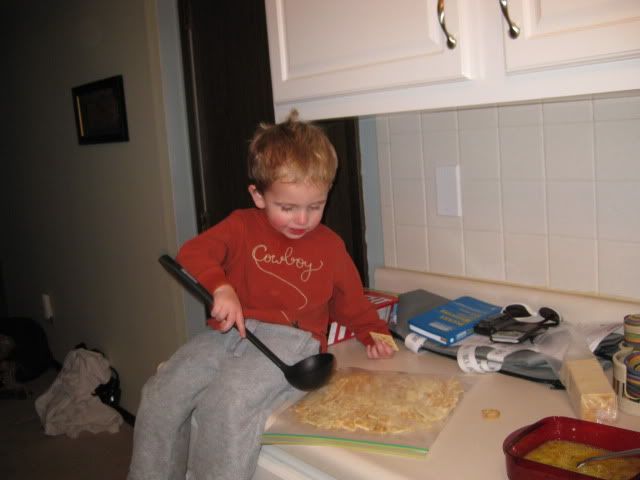 Kaden with 2 of his daycare friends -- they were doing a color matching craft, then later I put a big sheet of paper on the table and they had so much fun coloring wherever they wanted. In one of the pictures, Matthew couldn't figure out where one of the colors should go, so Kaden -- helpful boy he is -- got out of his chair and went over and helped!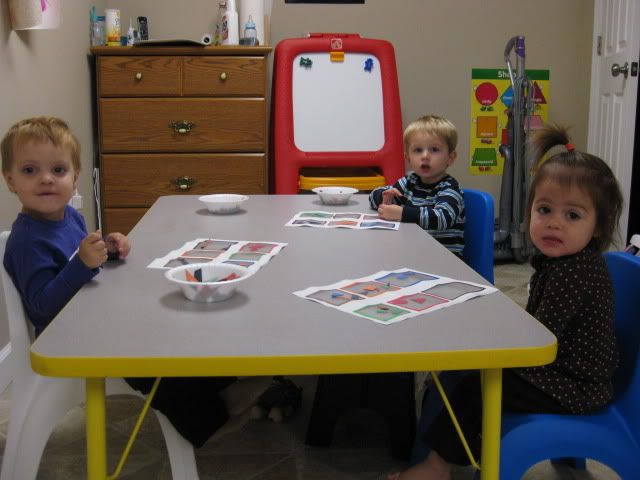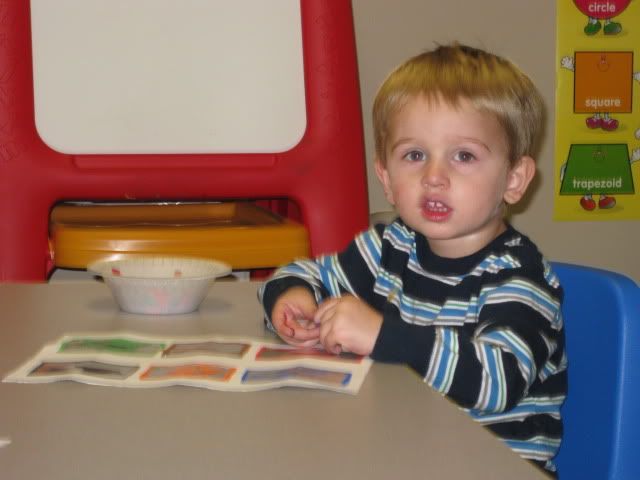 I realized that I hadn't ever shared pictures of Kaden's new big boy room -- here are some (these were before bed the other night, so you see his jammies, etc. out, his blankies draped over the bedrail, and his sheets pulled down.). We still need to hang his pictures, but for the most part, it's done.
His bed headboard/footboard are pieces from his crib, and he has the same dresser. Because his room's not real big, the only real toys he has in there are the books on his bookcase, but since the front room is right across the hall, he often brings toys into there to play. His newest enjoyment is having Matt or I play in his room with him, with the lights off and the door closed! He loves listening to music this way and playing with his glow sticks. He's been in his big boy bed for 1.5 months now and has continued to do awesome. It's so much easier on me than putting him in/out of the crib and he stays in his bed -- a huge surprise to me -- especially since he still doesn't nap, but gets quiet time in his room/on his bed everyday.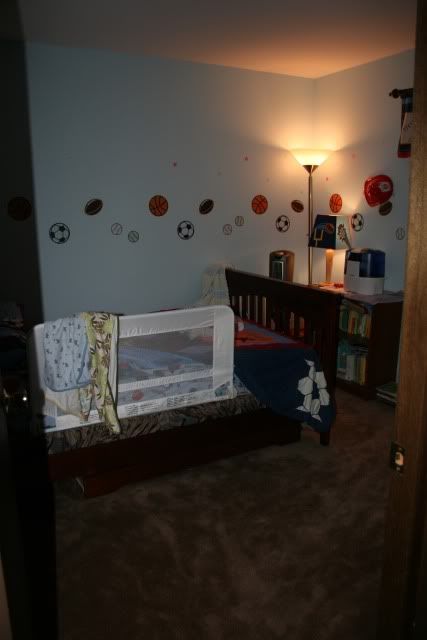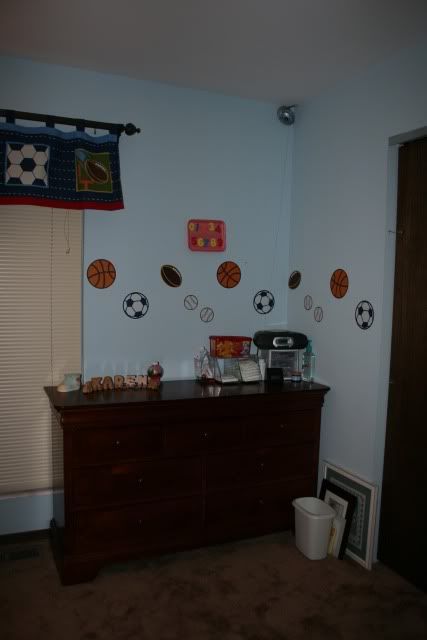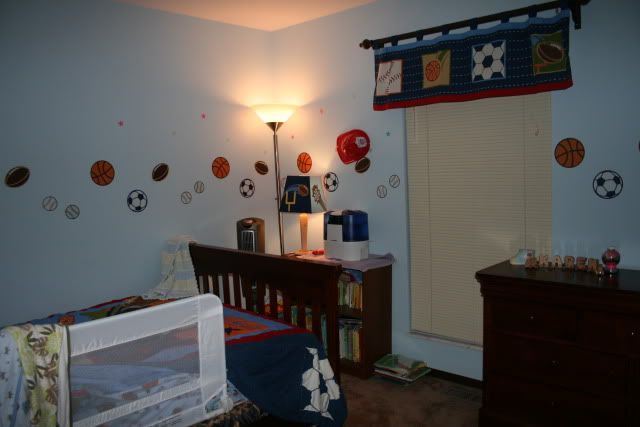 Matt's doing his MICU (Medicine ICU) rotation right now, which means he's not doing anything ob/gyn related. He likes it much less than any other rotation and will be happy when the 6 (now 5) weeks are up. He works A LOT (90-100 hrs/week) and Kaden and I miss him a lot. I'm just glad he has this rotation now, which I'm feeling good, able to do stuff, and before the babies arrive!